Tours of the Gardens at 900 & Elawa Farm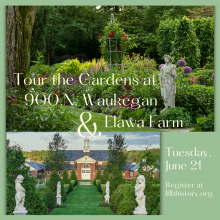 Time
Tours at 10:00am, 11:30am, 1:00pm, and 2:30pm
Location
Craig Bergmann Landscape Design & Elawa Farm Foundation
Cost
$25.00 for members | $35.00 for non-members | $10.00 increase for combo tickets
For over three decades, Craig Bergmann Landscape Design has won critical acclaim for intertwining design, horticulture, and architecture in a way that is unique to Northern Illinois. The firm is known for its award-winning attention to detail, establishing a true dialogue between the living garden and the architectural site.
Today, CBLD is headquartered in the renovated outbuildings of the historic David Adler-designed A. Watson Armour Estate in Lake Forest. Your tour will begin in the Gardens at 900 and will be followed by a shopping experience at HORTUS (located on the property). After shopping, attendees who purchased a combo ticket are invited to visit neighboring Elawa Farm for more history of the A. Watson Armour estate. A garden educator from Elawa will give tours at 11:30am and 2:30pm.
Please plan on arriving at least 10 minutes before the tour's start time. Face masks are optional.