Brought to you by The Grainger Foundation and Sally Searle
Studio 509 is a multifaceted story-telling platform located both in-house at the History Center and online.
We invite you to share stories about life in Lake Forest and Lake Bluff—to remember the past and chronicle the present. These stories will live on for future generations in our exhibit and digital archives. We want to ensure that contemporary stories of everyday life in our community are shared and saved.
Your voice is important and every little story counts. We need YOU – your experiences, your memories, your input – to help our exhibit continue to grow and best reflect our Lake Forest/Lake Bluff story.
The process couldn't be easier!
Stop in and reminisce for a few minutes. Bring in an old snapshot to be scanned. Post a memory from your home computer. Get nostalgic by scrolling through previously shared photos on your phone and writing a short paragraph about what makes them significant. Grandparents and grandchildren can interview each other. High schoolers can share a memory and return years later to show their family.
Watch this brief video for a quick walk-through.
Studio 509 Live
Our new, soundproof story booth will walk you through your choice of topics, prompt you, and then let you approve your recording for the museum archives and digital displays. You're welcome to speak off the cuff, read from notes, or interview a friend or relative.
You can share stories of your own interest or in response to the History Center's monthly themes and questions.
Studio 509 Online
Visit the web portal to add your story or browse hundreds of previously uploaded Lake Forest/Lake Bluff history stories. Instructions will show you how to submit your photos or written memories.
Get Started!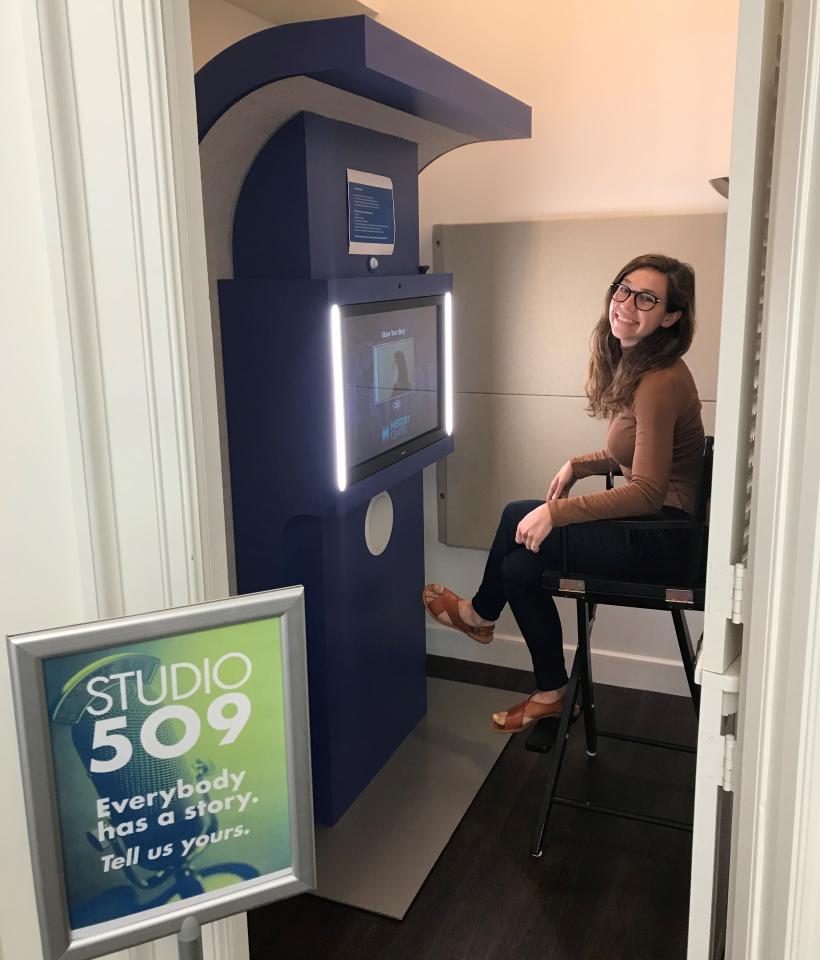 The Studio 509 story booth is open for appointments Tuesday through Saturday from 10 am to 4 pm.
Most recording sessions take 10 minutes or less. When you arrive you will be shown how to use the story booth and encouraged to take a few practice runs. All "practice" videos or unwanted videos are permanently deleted from the program. Parents must sign a recording release and consent form for children ages 13 and under.
To schedule your appointment, please call 847.234.5253 or email programs@lflbhistory.org.