Tour of the Gardens at 900 | 2PM Tour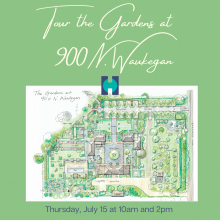 Location
1065 Acorn Trail, Lake Forest, IL
Cost
$25 members, $35 non-members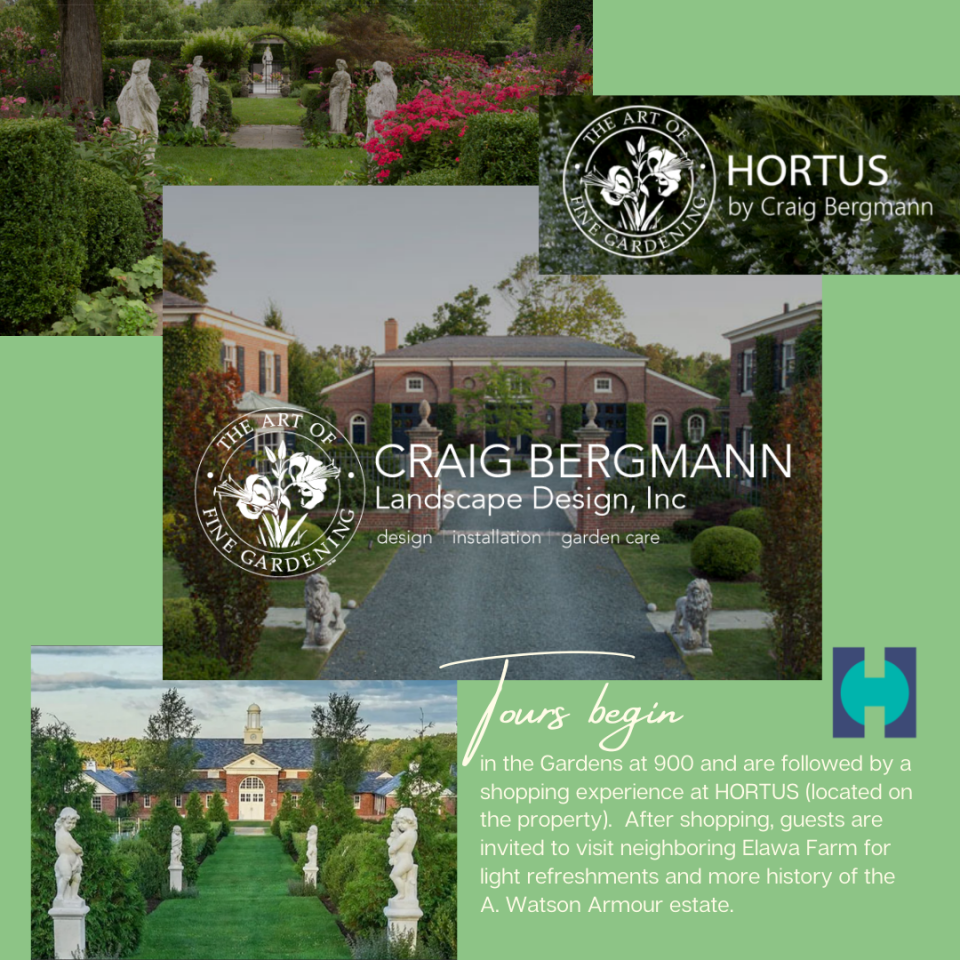 For over three decades, Craig Bergmann Landscape Design has won critical acclaim for intertwining design, horticulture and architecture in a way that is unique to Northern Illinois. The firm is known for its award-winning attention to detail, establishing a true dialogue between the living garden and the architectural site.
Today, CBLD is headquartered in the renovated outbuildings of the historic David Adler-designed A. Watson Armour Estate in Lake Forest. Your tour will begin in the Gardens at 900 and will be followed by a shopping experience at HORTUS (located on the property). After shopping, guests are invited to visit neighboring Elawa Farm for more history of the A. Watson Armour Estate. A garden educator from Elawa will start the tour at 3:30pm. Meet in front of the Hay Barn. Water bottles will be provided. 
Directions and Parking
The address, for parking purposes, is: 1065 Acorn Trail, Lake Forest, IL. Because parking is limited, we ask that you carpool if possible.
The Gardens at 900 are located on N. Waukegan Rd. in Lake Forest, between Rte. 176 and Rte. 60.
From the west, at the intersection of I-94 and Townline Rd. ( Rte 60), head east on Rte 60 (also known as Kennedy Rd.) until you get to the traffic light at Waukegan Rd. (Rte 43).
From the east, at the intersection of Skokie Hwy (US 41) and W. Kennedy Rd. (Rte 60), head west on Rte 60 until you get to traffic light at Waukegan Rd. (Rte 43).
From the intersection of Rte 60 and Waukegan Rd.: Head north on Waukegan Rd. and proceed 1.2 miles to the traffic light at Middlefork Rd. Turn left (West) on Middlefork Rd., the entrance to Elawa Farm. Turn left at the first street, Acorn Trail, at the corner of the Middlefork Savanna. Just past three houses on your left, you will see our 1065 mailbox as the road begins to curve. Park along the shoulder of the road closest to the savanna. Please do not park or drive on the driveway.  By foot, proceed up the driveway at the 1065 mailbox. Our drive continues past the 2-story red brick home that fronts Acorn Trail, and winds to the entry plaza with the painted iron gates. The tours will start at the entry plaza.