Thursday, Oct 26 Lake Forest Cemetery Walking Tour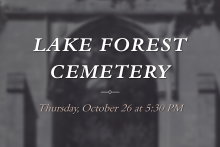 Location
1525 Lake Rd, Lake Forest
Cost
$30.00 per member | $40 per non-member
Join us for a historical and architectural walking tour of Lake Forest Cemetery led by esteemed docent Tina Strauss as we explore one of Lake Forest's most captivating and historic landmarks!
The final resting place for many who have left their mark on the social and civic fabric of Lake Forest, Lake Forest Cemetery is listed on the National Register of Historic Places and filled with monuments ranging from the traditional and classical to the contemporary and bold.
The tour will run for ~1h–1h30m. Please plan on arriving at least 10 minutes prior to the tour's start time.
Special thanks to our sponsor: Reuland & Turnbough Funeral Directors of Lake Forest.