Read Between the Ravines: An Evening with Ursula Pike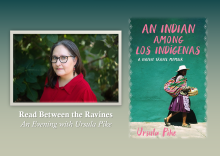 Location
History Center Lake Forest-Lake Bluff
The History Center of Lake Forest-Lake Bluff is excited to host the Lake Forest and Lake Bluff libraries in person as they present author Ursula Pike in conversation with Kim Vigue, Executive Director of the Mitchell Museum of the American Indian. They will discuss Ms. Pike's book, "An Indian Among Los Indígenas: A Native Travel Memoir." A book signing will follow Ms. Pike and Mrs. Vigue's conversation on the materials of the book and their connections to our community. 
This event is part of Read Between the Ravines, the joint nonfiction reading program from Lake Forest Library and Lake Bluff Public Library. To learn more, visit the Read Between page on the Lake Forest Library main website.
This event is also a part of Native Voices, the community-wide initiative to illuminate the historic legacy, current lives, and ongoing contributions of Native Americans in Lake Forest and Lake County. For all events, visit the Native Voices community calendar.