The World of Juliette Kinzie: Chicago Before the Fire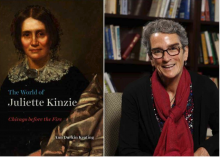 Time
Login via Zoom at 6:50 pm Program begins at 7:00 pm
Cost
Free: Suggested donation of $10 is appreciated
March is Women's History Month and we're excited to present this book talk about the extraordinary life of Juliette Kinzie with author Ann Durkin Keating, 
From the University of Chicago Press:
Juliette Kinzie is one of Chicago's forgotten founders. Early Chicago is often presented as "a man's city," but women like Juliette worked to create an urban and urbane world, often within their own parlors. With The World of Juliette Kinzie, we finally get to experience the rise of Chicago from the view of one of its most important founding mothers.
Ann Durkin Keating, one of the foremost experts on nineteenth-century Chicago, offers a moving portrait of a trailblazing and complicated woman.
Join us as we explore Chicago before the fire!