CANCELED! History on the Move! Walking Tour of Historic Triangle Park Neighborhood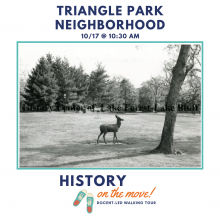 Location
REGISTER BY 2PM FRIDAY 10/16
Cost
$20 members, $30 non-members
This tour has been canceled.
Did you know that the city of Lake Forest essentially grew up around Triangle Park? Come learn about this historic neighborhood - home to many of the schools, churches, and houses of Lake Forest's early residents. Public Programs and Visitor Services Manager Alexandra Schneider will guide you through the park's important history, highlighting the stately architecture, people and events that shaped the community we know today. Meet at the History Center entrance on Deerpath.
Reservations for this Saturday tour must be made by 2pm on Friday. For the tour to be offered, a minimum of six people must register. Thanks for understanding!