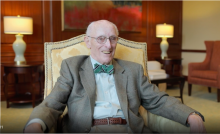 Time
Login via Zoom at 6:50 pm Program begins at 7:00 pm
A highly respected leader and biographer, Gene Hotchkiss has inspired, molded and illuminated the lives of so many; now we will have the chance to hear him tell his own story.
Please join us
THURSDAY, SEPTEMBER 24  7PM
In the comfort of your home via Zoom
————♦♦♦————
Dr. Hotchkiss will be interviewed by journalist Larry Potash. The setting is an intimate interview that encourages the sharing of little-known stories, behind-the-scenes anecdotes and insights missing from standard biographies. Gene will be available for a brief Q&A session following the interview.
Tickets are $50 per household. For an additional $50 you can send a personal note to Gene to be included in a keepsake book, or you can participate as an event sponsor and receive several benefits.
Read more about the event in our special edition e-newsletter