[Canceled] To Drink or Stay Dry? The History of Prohibition on the North Shore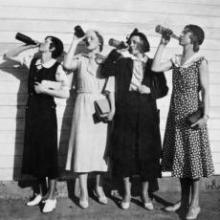 Location
Hunter Family Education Hall
Cost
Free and open to the public
Prohibition was the law of the land from 1919 to 1933. Residents with long memories and longer family histories may have stories recalling how they snuck a sip during the "dry" years. Some stories are well known -- No Man's Land between Gross Point and Evanston rejected restrictions on imbibing, while Kenilworth stayed dry for decades. Speakeasies popped up here and there, and grand houses cleverly hid a bar or two. Come learn more about this fascinating time period as a panel of local historians discuss the history of prohibition on the North Shore.
Panelists:
Bill Savage, author and professor at Northwestern University*
Kathy O'Hara, local historian and president of the Village of Lake Bluff
Buffalo Grove Park District Museum Curator Debbie Fandrei
Teta Minuzzo, past president and archivist of the Highwood Historical Society
Laurie Stein, curator of the History Center of Lake Forest-Lake Bluff
Copies of Savage's two books, Chicago by Day and Night: The Pleasure Seeker's Guide to the Paris of America, a guide to the steamier side of Chicago during the 1893 World's Fair, and George Ade's 1931 pro-Repeal tome, The Old-Time Saloon: Not Wet-Not Dry, Just History, will be available for sale and signing after the discussion.