How to Make a Miniature with Robert Off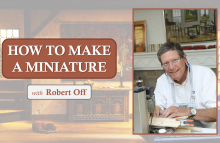 Cost
Free—Suggested donation of $10.00
Join us on February 16 on Zoom for a fascinating presentation by Robert Off, miniaturist and owner of Miniature Rooms Company.
This evening's Zoom presentation will provide a glimpse into the world of high quality miniature rooms. The program will cover topics such as the history of the Thorne Rooms, examples of miniature boxes designed and built by Robert Off himself, as well as a pictorial, step-by-step demonstration of the creative process of constructing a miniature room, from inception to completion.
A Zoom link will be provided following registration.