Crafts in Perspective with the North Shore Miniature Society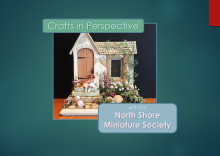 Location
History Center Lake Forest-Lake Bluff
Cost
Free—Suggested donation of $10.00
As an extension of our very popular miniature room exhibit, featuring the 1930s private collections of Mrs. Narcissa Thorne and her commissioned artisan, Eugene Kupjack, the History Center is offering another evening all about miniatures. At this upcoming event, our speakers are members of the North Shore Miniature Society who will exhibit some of their completed miniature rooms as well as share how they make their miniatures and/or acquire them from talented artisans.
The Club's mission is to create and collect small scale miniatures as an art form and include them within scenes, rooms and dollhouses, all while sharing knowledge and skills among friends. Come see for yourself how their passion can intrigue and capture your creativity, whether you are a novice miniaturist, aspiring crafter, accomplished artisan, collector, or just curious about this little world of miniatures. If you love what you see, you might consider joining their club.
A facilitated tour of the miniature rooms on display will begin at 6:00pm, followed by a presentation with the North Shore Miniature Society at 7:00pm. The History Center will remain open for viewing until 9:00pm.