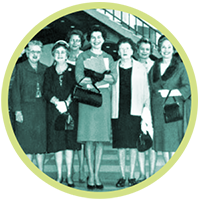 Take advantage of new History Center Corporate Memberships—receive great perks for you and your staff and clients!
New History Center corporate memberships provide businesses with added value and special gift memberships for clients, patrons, or staff. Through History Center gift memberships, you can show your commitment to local history and to your staff and clients with a gift that will keep on giving throughout the year.
The History Center of Lake Forest-Lake Bluff is a vibrant museum campus offering fascinating programs, exhibits and tours year-round. Our archives tell the stories of Lake Forest and Lake Bluff residents, business owners, educators, and change makers who have called this wonderful city home. A corporate membership would give you—and the people to whom you choose to give a History Center membership—unique access to special programs, events, and valuable museum member-only perks.
Corporate packages are:
Silver Patron: $500 with a gift pack of 5 individual memberships
Gold Patron: $1,000 with a gift pack of 10 family memberships
Silver Corporate member benefits
Receiving the weekly e-newsletter before non-members to get first notice on tours and programs which quickly sell out!
Special members-only invitations
Exhibit opening-night invitations
Annual report name recognition
ROAM Membership—reciprocal access to more than 100 museums in the US
Museum Travel Alliance Membership
1 Lunch with the Executive Director (offered once every quarter)
Private curatorial tour of our special exhibits for 10
Private curatorial tour of the archives for 10
Private curatorial tour of exhibit for up to 15
Gift pack of 5 individual memberships
Gold Corporate member benefits
Gift pack of 10 family memberships
All of the other Silver benefits ...

On-demand private walking tour (10 people maximum)
Use of space for group meeting or tour (max 25 people) at no charge**
**The History Center does not rent out its space for events so this offer is priceless!
Gift Packages
When you purchase a corporate membership, we will provide you with special gift packages to give to your recipients, which includes the information on how they can register online. The gift membership is easy and will include a unique discount code just for your invitees.
With a gift membership, your recipients will receive:
The weekly e-newsletter
Member orientation and archive visit
Annual report name recognition
Discounts on event tickets
Special members-only invitations
Exhibit opening-night invitations