Camp Rosemary House & Gardens Tour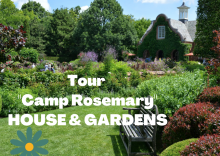 "Camp Rosemary", the Krehbiel's ivy-covered brick Georgian home, was designed by architect Benjamin H Marshall in 1904. He was an influential Chicago architect most remembered for designing the Drake Hotel. The house was built for Mr. and Mrs. John T. Pirie. Mr. Pirie was president of Carson, Pirie Scott & Company. The façade of the house reflects the Prairie School of architecture, with its low, wide windows and portico.
The landscape was created in the 1920's by Rose Standish Nichols, including the park like expanse of lawn and trees and the series of outdoor "rooms" behind the house.
From the front door, proceed through the living room and sunroom, exiting at the West Terrace. Stroll the upper garden, descending the steps to the "Betty Prior" Rose Arch with its massive center urn. Continue east to the Pergola Garden then crossing to enjoy the White Garden.The pair of Chinese ladies, once thought lost, have been found and returned to their original places in the White Garden.
Follow the steps past the white roses and enter the Wall Garden. See the wonderful ash tree it surrounds. Stop for refreshment at the Pool House and check out the Knot Gardens the interior of the Pool House, finished in the late 17th century Swedish style.
Return to the Walled Garden and enter the Ravine Walk at the statue of Diana. Take a right.The nine acres of gardens often overshadows the fact that Lake Forest's largest ravine forms one boundary of the property, running west to east and ending at the lake. Follow the path to the Council Ring, then stairs take you to the Camel's Hump for a view of the ravine. Continue south on the path to the Labyrinth where you're welcome to take a spiritual walk.
Wander among the garden buildings, potting shed, greenhouse, vegetable garden and orchard. Finally, exit on the driveway past the topiary birds to Rosemary Road.
The landscape is the collaboration of many people including the architects of Pool House Tom and Kirsten Beeby, New York Garden Designer Deborah Nevins, our local plants man Craig Bergmann, P. Clifford Miller, Naturalist Frank Mariani "the make it happen guy". Friends and collaborators include head gardener Marya Padour and Betty Kirincich. But it is the owner's passion and creative talent for gardening, as well as her love of nature that is the driving force behind this extraordinary landscape. It also goes to show that even in Chicago's harsh climate it is possible to have a wonderful English garden.
Please plan on arriving at least 10 minutes prior to the tour's start time. Light refreshments will be served. Face masks are optional.