38 Miles North and South from Chicago: A Comparative Look at African American History in Lake Forest and Joliet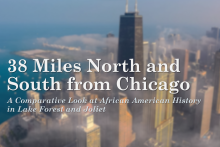 Location
History Center Lake Forest-Lake Bluff
Cost
Free—Suggested donation of $10.00
The History Center of Lake Forest-Lake Bluff is pleased to be partnering with Lewis University in showcasing two distinct community experiences in African American communities, situated 38 miles north and 38 miles south of Chicago's center through a new museum exhibition called 38 Miles North and South from Chicago debuting at the History Center in Lake Forest. Both communities began in the mid-1800s and were served by strong, self-supporting organizations, led from within the Black community. This program will be held on the evening of the exhibition opening to further explore the themes presented within the gallery.
African Americans called the Joliet region home before its incorporation in 1852. They built up the community, found jobs, and enjoyed life in the Des Plaines River Valley. In Lake Forest, the first families arrived from the south in the late 1860s. By 1900, the second police officer on the Lake Forest force was African American and numerous Black-owned businesses were thriving. Both cities saw the rise of strong Black community organizations, churches, and cultural centers that supported their residents and provided a foundation for the growing communities. In spite of this long history, Black communities have often been on the periphery of the local historical narratives. The museums and their partners have curated a collection of documents and materials, including organizational and family histories, papers, and images, that helped to inform the exhibition.
This program will be structured as a panel discussion moderated by Dr. Dennis Cremin and featuring guest speakers Dr. Courtney Joseph, filmmaker Sue Lawson of Lake Forest, and Grant Student Coordinator Morgan Jennings from Lewis University.