2023 Centennial Family Awards: The Casselberry Family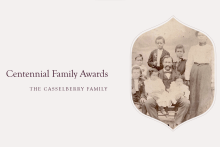 Location
History Center Lake Forest-Lake Bluff
Cost
Free—Suggested donation of $10.00
Join us on the evening of Thursday, June 8 for our annual Centennial Family Awards event, where we recognize and honor families who have called Lake Forest home for the past 100 years.
For 2023, the History Center will honor the Casselberry family, who have been members of our community since the late 1910s. The event will feature a presentation with family photographs and stories shared from their long history in Lake Forest. Refreshments will be served. Everyone is welcome to attend the event.
The History Center's new exhibition, "Deeply Rooted and Rising High: African American Experiences in Lake Forest," which includes pieces from the Casselberry family, will also be open for viewing on the date of the event.