2022 Centennial Awards: The Lawson-Jordan Family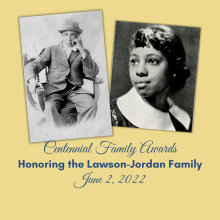 Location
History Center Lake Forest-Lake Bluff
Join us in honoring and celebrating the Lawson-Jordan family at the History Center during the evening of Thursday, June 2.
Members of the Lawson-Jordan family have called Lake Forest home since at least the 1890s. Early local ancestors included the entrepreneurial America Bridgeman Sales and her husband Walker Sales, Lake Forest's second police officer, along with the Slaughter siblings, six of whom established homes here after migrating from their birthplace of Liberty, Missouri. Many family members built homes in the neighborhood at Spruce and Edgewood, establishing a close-knit Black community there which featured extensively in the society pages of the Chicago Defender. Deputy Director and Curator Laurie Stein will present a program with historic photos and anecdotes shared by the family, including stories of their connections with local schools, businesses and churches, as well as familial traditions and achievements. This Centennial Family Award nomination was prepared by Sue Lawson.
We welcome the public to join us at this free event. To rsvp, please use the registration link.
Sponsored in part by the American Historical Association and the National Endowment for the Humanities.