"Scots of Chicago's North Shore" - Buy your copy here!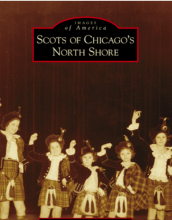 Time
This book is for purchase until copies run out!
This book contains more than 200 images and a significant portion of the stories are devoted to the hundreds of Scots who settled in Lake Forest and Lake Bluff. The Keith family who helped found RKO Studios with Scots-born J.J. Murdock as president; the Scottish families who founded Carson, Pirie & Scott; the Douglas and Stuart families who ran Quaker Oats; Hugh Robertson who was president of the Zenith Corporation, and the Armour family who operated one of the largest meatpacking companies in the world. Thomas Wilson ran his own meatpacking business which later spun off Wilson Sporting Goods. This book tells the story of these Scots and many others.
David Forlow, co-author of the book, and History Center Board President, has donated several copies of this book so that 100% of sales will help fund History Center operations.
Price: $21.99 including shipping