Private Group Tour at Kenosha Public Museum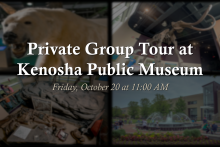 Cost
$25.00 per member | $35.00 per non-member
Come and join us for a private tour experience at Kenosha Public Museum in Wisconsin! Limited to just 20 attendees, this group tour will introduce the museum's history, exhibitions, and archives, with specific focus on the history of the Potawatomi Native American tribe indigenous to the Lake Michigan, Midwestern region.
The Kenosha Public Museum is a natural sciences and fine and decorative arts museum. Established in 1933, the Museum's collections have grown to over 80,000, including 1,200 works in the fine arts collection. Exhibit programming includes mammoths, world cultures, Native Americans, zoology, geology, fossils, and fine and decorative arts. After 65 years in a renovated post office building (now the Dinosaur Discovery Museum), the Kenosha Public Museum moved into its new facility at Kenosha's lakefront in 2001.
This program is a part of Native Voices. To view upcoming associated programs, visit www.lfola.org/native-voices.