Passion for Maps: A Brief History of the MacLean Collection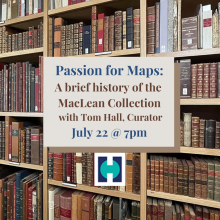 Location
History Center of Lake Forest-Lake Bluff Hunter Family Education Hall
Cost
Members Free, Non-Member $10
The MacLean Collection of Maps consists of more than thirty-five thousand maps that date from the fifteenth century to the present. The map collection was begun by Barry Maclean in the early 1960s and continues to expand today. It includes a broad range of media and formats such as globes, wall maps, sheet maps, pocket maps, case maps, atlases, manuscript maps, relief maps, pictorial maps, Portolan charts, posters and cartographic games and puzzles. There is cartographic material covering all parts of the world, but the collection's strengths include maps of the discovery and exploration of the Great Lakes, maps and atlases of American states and counties, British county maps, nineteenth century American maps, wall maps, and maps of the world. 
The program will be presented by MacLean Collection curator, Tom Hall.
Speaker background: Tom Hall was hired by Barry MacLean to catalog and curate his map collection in 1996. Tom oversaw the growth of the collection from roughly 13,000 to 40,000 cartographic objects. He created a library to house the collection in 2007.