ArtsStroll-Meet the Artists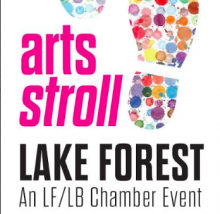 Location
History Center of Lake Forest-Lake Bluff Hunter Family Education Hall
Missing the art shows and live performances around town? Enjoy Lake Forest's very first Arts Stroll showcase – a spontaneous walk-around celebration of the arts in store windows and cultural sites throughout downtown Lake Forest!
 
Explore artists' displays in merchant storefronts and at the History Center* over the ten days (Sept 1-10) and plan to visit the History Center on Friday between 3-7pm to meet four talented local artists. Artwork featuring "Local Scenes" by Sandra Bacon, Beverly Behrens, Paulette Colo and Edie Ottoman will be for sale.
On Friday September 4 there will also be live entertainment in Gorton's parking lot (socially-distanced, of course!). Complimentary admission.
LIVE PERFORMANCES FRIDAY, SEPT. 4:
4:00 - CROYA Band F.L.A.M.E. playing Classic Rock 
5:00 - Citadel Theatre with onstage performances from "Annie" 
6:00 - Rendezvous Arts featuring the Metropolis Quartet 
*Stop by to view the artist's work during History Center open hours Tu,Wed 1-4pm and Th 10-1pm