The NEA Big Read: Indigenous Stories Book Group, Session #2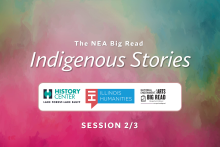 Location
History Center Lake Forest-Lake Bluff
Cost
Free—Suggested donation of $10.00
* * This is the second session of three book group sessions. The first session will be held on June 17. Topics/progress discussed may differ based on which session a member joins. * *
Welcome to the Big Read!
The NEA Big Read: Indigenous Stories celebrates the diverse Indigenous heritages of North America through the free community book groups, public discussions, and hands-on workshops. As a partnered book group, the History Center's focus in this year's program will be on the books There There by Tommy Orange and Postcolonial Love Poem by Natalie Diaz.
This book group will meet as a group at the History Center for three sessions, taking place on June 17, July 1, and the final session on July 15. Book group members will read to the assigned section ahead of the book group sessions. Each session will begin at 1:00pm and last ~90 minutes. Copies of There There and Postcolonial Love Poem will be provided to book group members.
For questions or concerns regarding the book group, please contact George at programs@lflbhistory.org.
The texts and events in this series center the concept Native survivance, which Native scholar Gerald Vizenor describes as "an active sense of presence over historical absence, deracination, and oblivion." Together, we'll explore these stories and discuss different experiences of Native survivance that challenge our notions of freedom, belonging, and displacement.
Special thanks to Illinois Humanities, the National Endowment for the Arts, and Arts Midwest.
This book group is a part of the Native Voices initiative. To learn more about Native Voices and other upcoming programs & events, visit www.lfola.org/native-voices.