Miniature Wonder: Private Group Tour of Colleen Moore's Fairy Castle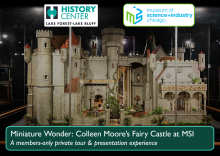 Location
5700 S. DuSable Lake Shore Drive, Chicago
Colleen Moore's Fairy Castle is one of the most beloved permanent exhibits at the Museum of Science and Industry, Chicago. During this visit, guests will learn about who Colleen Moore was and how she created this miniature castle with miniature objects that has appealed to the imagination of thousands of visitors since 1949 when it arrived at MSI. Following the presentation, guests will be treated to a "pop-up" exhibit featuring precious Fairy Castle artifacts in storage and currently not on view, as well as a room-by-room tour of the Fairy Castle by one of MSI's curators.
The experience will begin at 1:00pm and will last ~2hrs. Included is compensated parking & admission to MSI for the rest of the day.
Voula Saridakis is the Curator at the Museum of Science and Industry. Since joining MSI in 2016, she has curated several exhibits and is part of the team that cares for and interprets content for the thousands of artifacts in the collections department.
Natalie Rocha is the Assistant Curator at the Museum of Science and Industry whose work includes Moore's Fairy Castle and the artifacts contained within its walls. She has a master's in History and Archival Studies from Claremont Graduate University.
Attendance is restricted to 15 attendees; be sure to reserve your tickets now!