Local Legends 2023 Honoring Don Pierson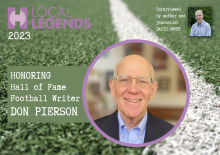 Location
History Center Lake Forest-Lake Bluff
* * * THIS EVENT IS NOW SOLD OUT * * *
The History Center proudly recognizes Hall of Fame football writer Don Pierson as our 2023 Local Legend. Please join us to celebrate his story!
Don will be interviewed by local author and journalist David Sweet. The setting is an intimate interview that encourages the sharing of little-known stories, behind-the-scenes anecdotes and insights missing from standard biographies.
Help us to continue to fund educational programming for virtual classrooms from grade 5 to college, expand our programs and exhibits and preserve our archives. The History Center is the only organization dedicated to collecting both Lake Forest and Lake Bluff history and saving it for future generations.