Lasker Estate Walking Tour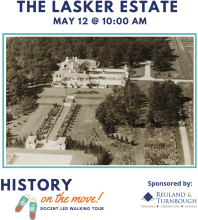 Location
1036 Estate Lane, Lake Forest
Cost
$20.00 per member | $30.00 per non-member
"A completely self-contained utopia...enjoyed by presidents and movie stars alike." 
Don't miss this popular tour led by Katie Hale at 10:00am on Thursday, May 12! Along with an overview of the history of Lasker's Mill Road Farm, the tour will cover the story of the father of modern advertising Albert Lasker and the 13 farm buildings designed by renowned architect David Adler across 480 acres, all of which are now private residences.
Please plan on arriving at least 10 minutes before the tour's start time. Face masks are optional.