Lake Forest's Historic National Garden Leadership Role & the History Center's New Initiative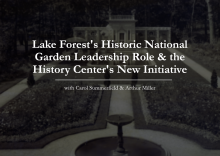 Location
1100 Pembridge Drive, Lake Forest
Cost
Free—Suggested donation of $10.00
Noted historian Art Miller and the History Center's executive director, Carol Summerfield, will be presenting a brief history of landscape design in Lake Forest. The Preservation Foundation's new guidebook gives a good overview of styles, along its index that includes landscape designers--books will be available for sale. Compared to traditional east coast estates, the local estates balanced the scale of residences with landscape design features. The History Center's current garden initiative for its grounds, being presented integrally to the talk, will feature the five styles of the planned gardens that will reflect this heritage.
The lecture will cover some significant estates, designers, clients (often members of local garden clubs) and styles of the past century. The presenters will talk about the influence of Lake Forest on design styles nationally, and why the design styles here evolved over time away from the formal gardens to native restoration, with a swing back toward them also in recent decades. The speakers will highlight the work of some classic landscape designers such as Jens Jensen, Warren Manning, Ralph R. Root, Ellen Shipman, Rose Nichols, Annette Hoyt Flanders, Ferruccio Vitale, Ossian C. Simonds, and the Olmsted Brothers.
This program will take place at Lake Forest Place, located at 1100 Pembridge Drive.