Lake Forest College Campus Walking Tour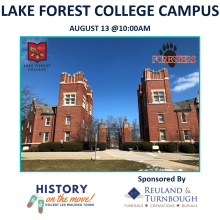 Location
555 N Sheridan Rd, Lake Forest
Cost
$20.00 per member | $30.00 per non-member
Register now for this historical and architectural walk through Lake Forest's very own Lake Forest College! Programs and Visitor Services Manager, and Lake Forest College alumnus, George Sigaev will guide you through a walk of middle and north campus, sharing overarching histories and personal stories associated with Lake Forest College and its monumental impact on the formation of Lake Forest itself. Whether you're a long-time Lake Forest resident or a first-time visitor to Lake Forest College, this is a tour you certainly won't want to miss.
Please plan on arriving at least 10 minutes prior to the tour's start time. Parking is available everywhere on campus during the summer. The tour will begin in front of the Lily Reid Holt Memorial Chapel facing Sheridan Rd.
Face masks are optional.