The Indigenous History and Evolution of Lacrosse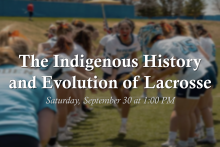 Location
History Center Lake Forest-Lake Bluff
Cost
Free—Suggested donation of $10.00
As part of the city-wide, multi-organizational "Native Voices" initiative, Lake Forest High School Senior Amani Yousuf, alongside guest speakers Nina Polk and Dana Isaac, will speak on the sport of lacrosse's Native American origin and how the game has evolved.
Nina Polk is an Indigenous collegiate lacrosse athlete. Her tribes are Sičangu Lakota, Diné (Navajo), San Carlos Apache, and Quechan. She's played modern lacrosse for approximately 8 years, but has been playing the Great Lakes wooden stick game, a style of "the creator's game"/traditional lacrosse, for 10 years. Nina has advocated for Indigenous issues occurring in society today by shedding light on the game's sacredness in Native culture through her social media, where she produces video content on the traditional game, the history, and how the sport has changed Nina's expertise comes from her experience playing both the traditional and modern sport of lacrosse.
Dana Isaac is an Oneida Nation of Wisconsin community/high school lacrosse coach. Dana's knowledge of the indigenous roots of lacrosse stems from his memories of playing the traditional game since childhood. Dana will share Oneida lacrosse stories and present the lacrosse sticks used in the traditional structure of the sport.
This program is a part of "Native Voices." To view future associated events, visit www.lfola.org/native-voices.