Indigenous Connections to the Land: Indian Trail Marker Trees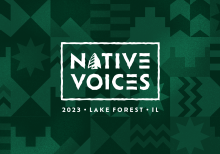 Location
History Center Lake Forest-Lake Bluff
Cost
Free—Suggested donation of $10.00
Indigenous Connections to the Land
As part of a Lake Forest city-wide initiative focusing on Native American Voices, Lake Forest Open Lands and the History Center of Lake Forest-Lake Bluff are offering a three-part lecture series on local indigenous history and the unique ways that the native people who came before us used the land.
Trail Marker Trees were an ancient form of land and water navigational aids, as well as a marking system to denote areas of significant importance such as ceremonial sites. These trees were used by many, if not all, of the Native American tribes and later by fur traders and early pioneers. Dennis Downes, renowned artist and documenter of Trail Marker Trees, will talk about the historical significance and location of these trees. Dennis' work is based on years of field research conducted throughout the United States and Canada, with the main focus in the Great Lakes area. Dennis has worked with archeologists, Native American Historical experts, ethnologists, and historians in his research.
For more information on the Native Voices initiative, visit www.lfola.org/native-voices
This program is co-sponsored by the History Center and Lake Forest Open Lands.