Indigenous Connections to the Land: Chicagoland Archaeology and Native American Past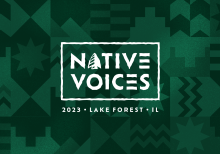 Location
History Center Lake Forest-Lake Bluff
Cost
Free—Suggested donation of $10.00
Indigenous Connections to the Land
As part of a Lake Forest city-wide initiative focusing on Native American Voices, Lake Forest Open Lands and the LF/LB History Center offer a three part lecture series on local indigenous history and the unique ways that the native people who came before us used the land.
Want to know what our area was like before its current settlement? Come enjoy a lecture by Great Lakes Archaeologist, Dan Melone, as he discusses the people of the pre-settlement Chicago period, and what was left behind. More specifically, Dan will present his prehistoric and historic findings from the region.
For more information on the Native Voices initiative, visit www.lfola.org/native-voices
This program is co-sponsored by the History Center and Lake Forest Open Lands.