If These Walls Could Talk...featuring the Dexter-Cummings Estate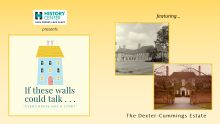 Location
History Center Lake Forest-Lake Bluff
Cost
Free—Suggested donation of $10.00
In this installment of "If These Walls Could Talk," we will cover the Dexter-Cummings Estate at 1460 Lake Road. The presentation begins with a short documentary from Jeff Zimmerman on the history of the house, providing an exclusive peek inside the Harrie T. Lindeberg designed estate, which has been restored and renovated by new homeowner Chase Steer. The film will be followed by a conversation with Greg Koester, expert on Lindeberg designs, and Mr. Steer, homeowner.
Greg Koester is an architect and historian who earned a Master degree in Architecture from the University of Virginia. Greg currently runs an eponymous residential design firm in Asheville, N.C. Chase Steer is an avid horseman and architectural preservationist of historical homes of distinction. 
This event is co-sponsored by the Lake Forest Preservation Foundation and Pam and David Waud.