Historic Market Square Walking Tour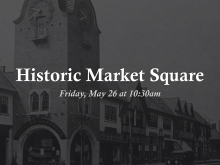 Location
Market Square, downtown Lake Forest
Cost
$25.00 per member | $35.00 per non-member
We're on the move again!
Join docent Sandra Stringer for this fascinating walking tour of Lake Forest's famous Market Square. Sandra will point out interesting hidden details and share stories of businesses past and present as we explore the nation's first outdoor mall designed by Howard Van Doren Shaw.
The tour will run for ~1h–1h30m. Please plan on arriving to the Market Square fountain in downtown Lake Forest ~10 minutes prior to the tour's start time.
Special thanks to our sponsor: Reuland & Turnbough Funeral Directors of Lake Forest.