Glencoe's Black Heritage with the Glencoe Historical Society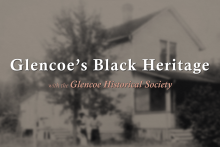 Location
History Center Lake Forest-Lake Bluff
Cost
Free—Suggested donation of $10.00
On Tuesday, October 10th at 7:00 PM, our friends from the Glencoe Historical Society (GHS) will present a special program that showcases highlights of their current exhibit on Glencoe's Black Heritage. They will discuss how Glencoe became an integrated, culturally active, entrepreneurial community in the late 19th century. They will also explain how the use of restrictive covenants, eminent domain and redlining in Glencoe in the 1920s-30s had a profound impact on what had been a growing Black population.
The Glencoe Black Heritage Exhibit is the culmination of more than five years of investigation by the research team at GHS and features many new and previously unpublished photos and stories that help us all better understand this important part of Glencoe's rich history. In many instances, the research process was just as fascinating as the information they uncovered, and this program will also touch on some of those extraordinary discoveries. As a special bonus, the GHS team has also promised to explore the unique connection between the Black families in Glencoe and Lake Forest.
The Glencoe Black Heritage Exhibit is currently on display at the GHS Museum at 375 Park Avenue, Glencoe, IL 60022. It is open every Sunday from 1:00–4:00 PM, Wednesdays from 10:00 AM–3:00 PM, or by appointment. For more information, visit www.glencoehistory.org.