Crusade to Heal America: The Remarkable Life of Mary Lasker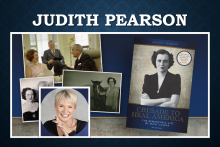 Location
History Center Lake Forest-Lake Bluff
Cost
Free—Suggested donation of $10.00
"I am opposed to cancer and heart attacks the way I am opposed to sin." With that as her battlecry, a petite, well-coiffed socialite forever changed American medical research.
In Crusade to Heal America, Judith L. Pearson shares the never-before-told story of Mary Lasker, a woman who was savvy, steely, and deliberate, with the goal of eliminating human suffering. While scientists looked at disease as a problem to be solved, Lasker saw it as a beast to be slain. Proclaiming herself a "catalytic agent," she led a ceaseless, behind-the-scenes crusade to improve the health of Americans. Fusing elements of American history, New York high society, and shrewd political acumen, Crusade to Heal America acquaints us with a feisty and fearless "fairy god-mother of medical research" who positioned herself at the crossroads of politics, science, and society—to the benefit of us all.
Judith L. Pearson's previous books include 2022 Nautilus Gold Award winner From Shadows to Life: A Biography of the Cancer Survivorship Movement; Wolves at the Door: The True Story of America's Greatest Female Spy, and Belly of the Beast: A POW's Story of Faith, Courage, and Survival Aboard a WWII Hell Ship. A diagnosis of Triple Negative Breast Cancer led Judy to found A 2nd Act, a nonprofit that raises funds for survivors ready to launch or grow their 2nd Acts after cancer. In 2014, Judy was honored in Washington, D.C. by the American Association of Cancer Research. A former member of the Society of Integrative Oncology and the American Psychosocial Oncology Society, she is a graduate of Michigan State University and divides her time between Arizona and Florida.
Copies of "Crusade to Heal America: The Remarkable Life of Mary Lasker" will be available for purchase and signing by author Judy Pearson following the program.