A Conversation with Craftsmen: The Art of the Miniature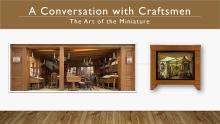 Location
History Center Lake Forest-Lake Bluff
Cost
Free—Suggested donation of $10.00
To celebrate the opening of our new exhibit The Art of the Miniature inside the Katherine Bell Hale Gallery, three panelists will discuss the historical significance, meticulous process, and social perceptions of miniature room construction and restoration. Pioneered by figures such as Lake Forest's Narcissa Niblack Thorne, the art of the miniature encompasses an incredibly wide range of artisanal craft—from passionate hobbyists to world-renowned compositions on display at museums and institutes.
Jay Kupjack is one of the pre-eminent miniaturists, and part of a family tradition dating back nearly 100 years of creating the highest quality miniature rooms. Mr. Kupjack will discuss the craftsmanship and the Kupjack family's experiences in designing and building miniature rooms.
Madeline Crispell is the guest curator for the History Center's The Art of the Miniature exhibition. Madeline's expertise in miniature rooms and Narcissa Thorne provide us with a new understanding of the history of both. Her knowledge of the history of miniatures extend to their earliest eras.
Herb Metzler is a miniature hobbyist and on staff at the Art Institute of Chicago. His experience in making, restoring and preserving these materials helped rejuvenate the rooms on display at the History Center. He will also talk about his own studio and miniature painting, where he specializes in military history.