Modern in the Middle-Chicago Houses 1929-1975: A Book Talk with Susan Benjamin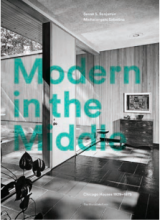 Cost
Free: Suggested donation of $10 is appreciated
This new book by Susan Benjamin and Michelangelo Sabatino explores the substantial yet overlooked role that Chicago and its suburbs played in the development of the modern single-family house in the twentieth century. 
Modern in the Middle: Chicago Houses 1929-1975 is the first book to examine the classic twentieth-century houses that defined American Midwestern Modernism. Famed as the birthplace of the skyscraper, Chicago also cultivated a more humble but no less consequential form of modernism—the private residence.
About the authors:
Susan Benjamin is a noted historic preservationist and published architectural historian based in Chicago who has initiated the landmarking of notable historic buildings of all periods throughout Illinois. Benjamin lectures frequently on a wide variety of topics, from historic landscapes to Chicago's residential architecture of the nineteenth century to the present. 
Michelangelo Sabatino is Professor and Director of the PhD Program of the College of Architecture of the Illinois Institute of Technology. Trained as an architect, preservationist, and historian, his research broadly addresses intersections across culture, technology, and design in the built and natural environment