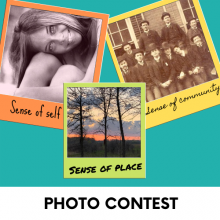 Time
Call for Entries Extended to OCT 15
Please scroll down to "MEET THE JUDGES!"
Whether you have been taking photos for years, or just discovered portrait mode on your mobile phone, we want to see how you express your sense of self, sense of place, and/or sense of community.
Photo Contest Guidelines
Contestants* can enter one photo in each of three categories (i.e. three submissions max):
A photo that depicts a sense of self
A photo that depicts a sense of place
A photo that depicts a sense of community
The entry fee is $25 per photo. All funds raised go towards History Center exhibits, programs, and educational initiatives.                                                                                                                                          
Each photo must be emailed to Laurie Stein at

lstein@lflbhistory.org

as a JPG file (10 MB max). File name MUST INCLUDE the last name of the participant, age category (see below), and the word "self, place or community." For example, "Schneider_20-64_Community." Please include a brief artist's statement (max 150 words).
Age Categories                                                      
Each participant must ALSO fill out a registration form (click orange button above to register), detailing their contact information and granting the History Center the right to use their work for marketing purposes (for all images used, the artist will be credited).

   
                                                                                                                                                         

Digitally enhanced or significantly altered photos will not be accepted. Minor adjustments, including cosmetic touch-ups, sharpening, contrast, slight color adjustment and grayscale conversion are permissible.


 
The contest opens on

 August 15 a

nd submissions will be accepted through

September 30, 

2020.
 

All winners will have their work displayed in the History Center's Katherine Bell Hale Gallery** from mid-November 2020 through the end of January 2021, and in a virtual gallery on the History Center website.


 

All participants will have their work displayed online in a virtual gallery, as well as at the History Center's end-of-year art exhibition in a digital slideshow.**

 
                                                                                           

Winners in each age/entry category will be awarded select sponsor-related prizes. First place winners will have their work on temporary display in the History Center, and permanent display on our digital screens and online. 
* History Center staff, board, and their families are not eligible to participate.
** The in-house display of the photographs will be dependent upon COVID-19 restrictions at the time.
Meet the Judges:
Caitlin Saville Collins, professional photographer
https://www.facebook.com/pg/C.SavillePhotography/posts/?ref=page_internal
https://business.lflbchamber.com/list/member/c-saville-photography-2141
Cecilia Lanyon, Co-owner of The Gallery Restaurant in Lake Forest
http://voyagechicago.com/interview/meet-cecilia-lanyon-dominic-zumpano-gallery-north-suburbs-lake-forest/
Daria McMeans, Lake Forest College
http://www.dariamcmeans.com/pagecv       
Ana Miyares, professional photographer
View Interview with Ana Miyares and Carol Summerfield
https://www.anamiyares.com/about 
https://www.youtube.com/watch?v=6pHh7NQm5f4&t=2s
Kerri Sherman, professional photographer
https://www.kerrisherman.com/about
OUR MISSION
The History Center of Lake Forest-Lake Bluff connects people and inspires curiosity by exhibiting, preserving and celebrating history. Our initiatives provide audiences with an understanding of how communities develop, change, and grow and help develop our sense of self, place, and community.