Bike Tour of the NS Interurban Electric Railway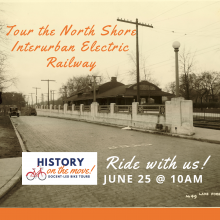 Location
Meet in the parking lot south of Deerpath in between Western and McKinley
Cost
$20 members, $30 non-members
Today's bike paths through Lake Forest and Lake Bluff were once the tracks of the North Shore Interurban electric railway.  Join History Center docents Lisa Frey and Rich Kosmerl as they explain the history of the North Shore Interurban on this informative bike ride while pointing out hidden remnants along the way.  
A little background: Train service along the original route from Waukegan and Highland Park, later known as the Shore Line Route, began in 1898. The Skokie Valley Route, along present day Route 41, began in 1926. Unfortunately, both of these routes were abandoned by 1963. 
The tour will cover between six and eight miles depending on construction along the route and will take between 90 minutes and two hours.
Special thanks to Reuland & Turnbough for sponsoring our History on the Move series of docent-led tours.